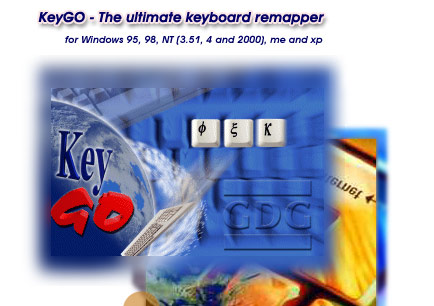 Version 2.2 with OLE 2.0 and Multiple Language Support
for Windows 95, 98, me, NT (3.51, 4 and 2000) and xp

With KeyGO installed you can instantly create and manage an unlimited selection of keyboard configurations. Each layout is instantly available via selected hotkeys or Action Bar buttons, and creating or modifying layouts is super simple. Just pick a letter from the Character Selection Box, drag and drop onto the desired keytop and that key is now associated with the chosen letter. You can now easily and rapidly switch between multiple languages and multiple layouts from within a single document.

See screen shot of KeyGO
The ideal tool for all keyboard configurations :

| | |
| --- | --- |
| | Quick Switch to any layout via hotkeys or Action Bar menu |
| | Create unlimited custom keyboard layouts |
| | Support all Windows font types |
| | Assign "macro" character strings to single keys |
| | Single & Multiple deadkey levels |
| | Easy to use "drag and drop" layout configuration |
| | Generate native Windows 9x keyboard driver |
| | OLE 2.0 support and assignments (assign full paragraphe with attributes tokeys) |
| | File assignments (for automatic launching of files) |
| | Always-on-top keyboard acts as memory jogger |
| | Multi language support under Windows 95 and NT 4.0 |
| | Integrates with any Windows application |
| | None intrusive |
| | Anti-virus protection |
FAST...

KeyGO finally solves all your keyboard language and layout problems. Whether you're a translator frustrated with the foreign language layout that Windows forces you to use, or a user unsatisfied with your system's keyboard configuration, KeyGO is the program you've been waiting for.
POWERFUL...

With KeyGO's powerful scripting feature you can also assign multiple keystrokes to a single key so that repetitive text entry is eliminated. You can use it to assign your Company Name and Address to a single key, and even create application specific "macro" commands to speed up your work. KeyGO lets you assign single and multiple level of "deadkeys" for accented type of characters or for languages with multiple glyphs. KeyGO also lets you assign OLE objects or files to keys. Depressing these keys pastes the OLE object into your documents with all its attributs or launches an application, acting as shortcut keys.

The perfect tool for your international e-mail.
EASY...

KeyGO is not only for language specialists or scholars. Stop searching ASCII code equivalents of accented characters or symbols in your DOS manual, simply drag them to the desired key of level or keys for instant access from all Windows application.

KeyGO is 100% software driven - no special hardware required, no resetting of DOS codepages, no system modifications, nothing is easier to set-up, configure and use than KeyGO - "The ultimate keyboard remapper" from the people who brought you KRF and other great language oriented software.

Pricing
Quentity

Discount

Price Per Copy
(in US Doller)

Single Copy

Nil

$79.00

2 - 10 copies

20% discount

$63.00

11 - 50 copies

30% discount

$55.00

51 - 100 copies

40% discount

$47.00

101 - 300 copies

50% discount

$39.00

300 + copies

Please contact

Please contact

Update from previous version of KeyGO
Copyright note on generated drivers:

You have the rights to generate and use as many native keyboard templates generated by KeyGO only on the machine on which KeyGO is installed. You need explicite rights from GDG Systems,inc. to distribute those keyboards drivers on different machines. A special program that will facilitate the distribution and installations of these drivers will be provided to you at no cost upon licensing.
Drivers

Price Per Driver
(in US Doller)

100 drivers

$ 5.00

101 - 500 drivers

$ 3.50

501 - 1000 drivers

$ 2.00

Infinite use

$ 10,000.00
For more information on licensing keyboard drivers please send you request to:
sales@gdgsystems.com